VA Home Loans for Active Duty Service Members and Veterans
Posted by Chad Kennedy on Friday, March 31, 2023 at 9:00 AM
By Chad Kennedy / March 31, 2023
Comment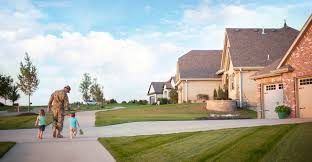 Are you an active duty service member or veteran looking to purchase a home? If so, you may be eligible for a VA home loan. This type of loan is specifically designed to help military members and veterans achieve the dream of homeownership.
There are many benefits to using a VA home loan to purchase your next home. Here are just a few of the advantages.
1. No Down Payment Required
One of the most significant benefits of a VA loan is that you may be able to purchase a home with no down payment. This can be especially helpful if you're just starting out or if you're looking to save money on your upfront costs.
2. No Private Mortgage Insurance (PMI) Required
With a VA home loan, you won't have to pay for PMI, which is typically required with conventional loans when you put less than 20% down. This can save you hundreds of dallars each month.
3. Lower Interest Rates
VA loans often come with lower interest rates than conventional loans, which can save you a significant amount of money over the life of your loan.
4. Easier to Qualify
Because Va loans are backed by the government, they often have more relaxed credit and income requirements than conventional loans, making them easier to qualify for.
5. Refinancing Options
If you already have a VA Loan, you may be eligible to refinance with a VA Interest Rate Reduction Loan (IRRRL) to lower your monthly payments or shorten the term of your loan.
If you're interested in using a VA home loan to purchase your next home, there are a few things you should know. First, you'll need to obtain a Certificate of Eligibility (COE) from the VA to show that you meet the eligibility requirements for the loan.
You'll want to work with a real estate professional who has experience with VA home loans and can help guide you through the process. They can help you find homes that are eligible for VA financing and connect you with lenders who specialize in VA loan.
In conclusion, a VA home loan can be an excellent option for active duty service members and veterans who are looking to purchase a home. With it's many benefits, it's definitely worth exploring this option if you're in the market for a new home.
Need more information about VA home loans? Fill out the contact form and one of our team members will reach out.