The Ultimate Guide to Understanding VA Loans
Posted by Chad Kennedy on Tuesday, March 7, 2023 at 12:30 PM
By Chad Kennedy / March 7, 2023
Comment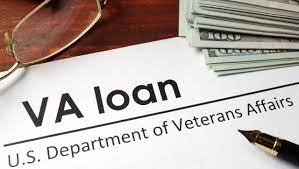 If you're a veteran or an active-duty service member, you may be eligible for a VA home loan. Thes loans offer a range of benefits that make homeownership more accessible and affordable for thos who have served our country. In this ultimate guide, we'll cover everything you need to know about VA loans, from elgibility requirements to the application process and more.
What is a VA home loan?
A VA home loan is a mortgage loan that's guaranteed by the Department of Veterans Affairs. These loans are available to eligible veterans, active-duty service members, and some surviving spouses. The VA doesn't actually lend money directly to the borrowers; instead, it provides a guarantee to private lenders, which allows them to offer more favorable terms and conditions to borrowers.
What are the benefits of a VA home loan?
One of the biggest benefits of a VA loan is that you may be able to buy a home with little or no down payment. In addition, VA home loans typically offer more favorable interest rates and terms than conventional mortgages, which can save you money over the life of the loan. VA home loans also don't require private mortgage insurance (PMI) which can be a significant cost savings.
Who is eligible for a VA home loan?
To be eligile for a VA home loan, you must meet one or more of the following criteria:
You're a veteran who served on active duty and was discharged under conditions other than dishonorable.
You're an active-duty service member who has served for a certain period of time (usually at least 90 days)
You're a surviving spouse of a service member who died in the line of duty or as a result of a service-related disability.
How do you apply for a VA home loan?
To apply for a VA home loan, you'll need to provide documentation of your military service, income, and credit history. You can apply directly through the VA or through a private lender who participates in the VA loan program. Once you're approved, you can start shopping for a home an making offers.
What are the requirements for a VA home loan?
While the VA home loan offers many benefits, there are some requirements you'll need to meet in order to qualify. For example, there are limits on the amount you can borrow, and the property you're buying must be your primary residence. You'll also need to have a certain credit score and meet other financial criteria.
In conclusion, a VA home loan can be an excellent way for veterans and active-duty service members to achieve the dream of homeownership. If you're eligible for a VA home loan, it's worth exploring this option and seeing if it's right for you. By understanding the eligibility requirements, benefits, and application process, you can make an informed decision and get the best possible terms and conditions for your loan.
Want to get started? Fill out the contact form and a team member will reach out.